Adam Yauch aka MCA from the Beastie Boys died after a a long illness although it has not been confirmed as to the cause of his death. He was suffering from cancer for a long time and this is probably the cause of his untimely demise.
MCA along with the other Beastie Boys was a musical phenomenon. Equivalent to Bill Haley and the Comets, The Sex Pistols and The Spice Girls. Although not musically advanced their marketing ability made them newspaper headlines for a number of years. From the sexually charged shows to destruction of Volkswagon vehicles for their logo badges.
Personally, MCA stop being a musical L'enfant terrible to become a human rights campaigner for the liberation of Tibet from Chinese rule in his later life and this was reflected in his musical journey. Born to middle class Jewish parents, he was always seen as a individual trouble maker at school and he himself was not satisfied with the knowledge he was given. He always wanted to broaden his information gathering.
He met what would become the other members of The Beastie Boys when they decided to form a hardcore punk band called The Young Aboriginals. They later changed to The Beastie Boys when they decided to become hip hoppers. In a way moving from punk to hip hop made sense since both genres is about D.I.Y noise making and tearing down accepted routines in creating music.  
Getting signed by Russell Simmons they took this attitude and brought heavy metal guitars to normal rap back beats and changed late 20th century music for ever. Along with Public Enemy they created a political and social upheaval in Europe on there late 1980's tour which led to an MP asking the then home secretary to kick them out of Britain for the good of the nation. This type of scene had not been witnessed since The Sex Pistols created musical mayhem during the Queen's silver jubilee.
They had the first hip hop number one album and this is what broke hip hop into the mainstream and led to hip hop and rap music dominating the charts ever since. "Licensed to Ill" although not aesthetically pleasing, the album led to a new attitude that re-united the idea that music should be enjoyed by all types of 'races' and not what MTV and others were doing in splitting it into 'white' and 'black' music.
Because this type of music was now listened to by 'nice, surburban white kids' it led to campaigns to get them barred and led to Tipper Gore infamous 'Parental Guide' stickers which the hip hoppers took and made it into a badge of honour.
MCA then moved into different musical areas which led to albums such as Paul's Boutique – now used as a massive label badge loved by teenage girls in the UK, Check Your Head – again ripping up standard views of hip hop by playing their own instruments on the album, Ill Communication and Hello Nasty.
With all this success MCA then decided to help campaign for the liberation of Tibet from occupation. The Tibetans have been after a free society since the Chinese government took over in 1950. The Tibetans are predominately Buddhist and through their practice of Buddhahood try to gain enlightenment through altruistic living. This appealed to MCA and he consequently became a buddhist convert.
He made several situation art moments and promoted concerts to help raise awareness of the plight of Tibet. It was clear that MCA benefited from this campaign to bring the troubles of Tibet and its representatives to a world wide audience. 
In the end MCA did many things which showed that having a troubled beginning can be changed to create a positive ending. Here are some of his interesting musical output.
Beastie Boys – Fight For Your Right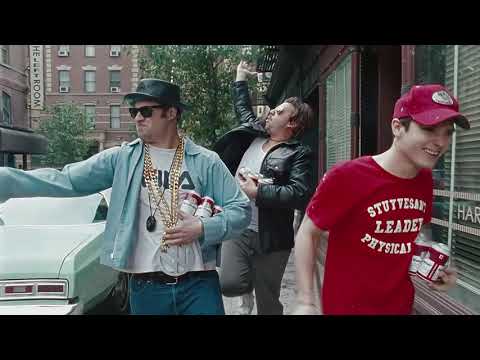 Beastie Boys – Intergalactic